Intercity
Next
Prev
Intercity is a modular system for creating spaces tailored to any room and need. The wide choice of base modules includes upholstered elements with or without back, both straight and curved. The straight seats, also with integrated side table in matte Carrara marble or Basaltina, can be combined as preferred to compose different solutions, even the most unusual ones, such as those made possible by the module with S-shaped back which creates a double-sided seat, or by the modules with "face-to-face" seats. Arch or island compositions can be created thanks to the curved modules. The seating system also includes a round pouf, with or without integrated top in marble.

2D and 3D files available upon request: please contact info@tacchini.it
Designer: Pietro Arosio
Year: (1999) 2018
Cod. OINAP60
W 60 D 75 H 40 cm
H seat 40 cm
Cod. OINBP90
W 90 D 75 H 40 cm
H seat 40 cm
Cod. OINCP120
W 120 D 75 H 40 cm
H seat 40 cm
Cod. OINDP150
W 150 D 75 H 40 cm
H seat 40 cm
Cod. OINOP180
W 180 D 75 H 40 cm
H seat 40 cm
Cod. OINB190
W 90 D 75 H 40 cm
H seat 40 cm
Cod. OINC1120
W 120 D 75 H 40 cm
H seat 40 cm
Cod. OIND1150
W 150 D 75 H 40 cm
H seat 40 cm
Cod. OINO1180
W 180 D 75 H 40 cm
H seat 40 cm
Cod. OIND2150
W 150 D 75 H 40 cm
H seat 40 cm
Cod. OINO2180
W 180 D 75 H 40 cm
H seat 40 cm
Cod. OINEP135
W 135/30 D 75 H 40 R 96 cm
H seat 40 cm
Cod. OINMP150
W 150 D 150 H 40 R 75 cm
H seat 40 cm
Cod. OINLP198
W 198/135 D 88 H 40 R 178 cm
H seat 40 cm
Cod. OINE135
W 1o5 D 105 H 73 R 130 cm
H seat 40 cm
Cod. OINN150
W 150 D 150 H 73 R 75 cm
H seat 40 cm
Cod. OINH135
W 135/198 D 75 H 73 R 178 cm
H seat 40 cm
Cod. OINF30
W 30/135 D 75 H 73 R 21 cm
H seat 40 cm
Cod. OINM150
W 150 D 150 H 73 R 75/150 cm
H seat 40 cm
Cod. OINL198
W 198/135 D 75 H 73 cm
H seat 40 cm
Cod. OINA60
W 60 D 75 H 73 cm
H seat 40 cm
Cod. OINB90
W 90 D 75 H 73 cm
H seat 40 cm
Cod. OINC120
W 120 D 75 H 73 cm
H seat 40 cm
Cod. OIND150
W 150 D 75 H 73 cm
H seat 40 cm
Cod. OINO180
W 180 D 75 H 73 cm
H seat 40 cm
Cod. OINR180
W 180 D 75 H 73 cm
H seat 40 cm
Cod. OINS180
W 180 D 75 H 73 cm
H seat 40 cm
Cod. OINB390
W90 D75 H 73 cm
H seat 40 cm
Cod. OINC3120
W 120 D 75 H 73 cm
H seat 40 cm
Cod. OIND3150
W 150 D 75 H 73 cm
H seat 40 cm
Cod. OINO3180
W 180 D 75 H 73 cm
H seat 40 cm
Cod. OINB490
W 90 D 75 H 73 cm
H seat 40 cm
Cod. OINC4120
W 120 D 75 H 73 cm
H seat 40 cm
Cod. OIND4150
W 150 D 75 H 73 cm
H seat 40 cm
Cod. OINO4180
W 180 D 75 H 73 cm
H seat 40 cm
Cod. OIND5150
W 150 D 75 H 73 cm
H seat 40 cm
Cod. OINO5SX180
W 180 D 75 H 73 cm
H seat 40 cm
Cod. OINO5DX180
W 180 D 75 H 73 cm
H seat 40 cm
Cod. OIND6150
W 150 D 75 H 73 cm
H seat 40 cm
Cod. OINO6180
W 180 D 75 H 73 cm
H seat 40 cm
Cod. OIND7150
W 150 D 75 H 73 cm
H seat 40 cm
Cod. OINO7180
W 180 D 75 H 73 cm
H seat 40 cm
Cod. OINUP150
W 151 D 89,5 H 40 cm
H seat 40 cm
Cod. OINU150
W 151 D 89,5 H 73 cm
H seat 40 cm
Cod. OINP150
Ø 150 H 40 cm
Cod. OINPT150
Ø 150 H 40 cm
Cod. OINBR
W 55 D 22 H 10,5 cm
Internal structure: poplar plywood 25 and 18 mm thick.
Padding: differentiated - density polyurethane foam.
Base: aluminum die-casting, with support bracket, arm support and plate.
Upholstery: non removable cover. Possibility of combining different fabrics / leathers and / or colors for the seat and the back.
Top: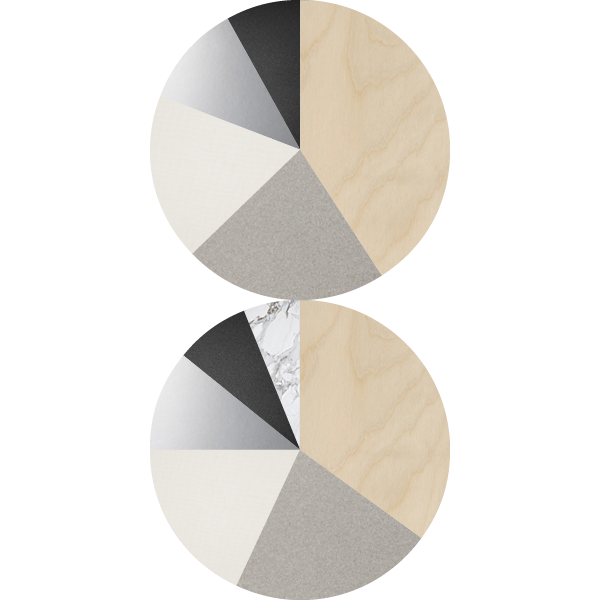 Sofa + ottoman
Poplar Plywood 41%
Polyurethane 22%
Upholstery 18%
Aluminum 11%
Elastic Belts 8%
Sofa + ottoman/table
Poplar Plywood 35%
Polyurethane 22%
Upholstery 18%
Aluminum 11%
Elastic Belts 8%
Marble 6%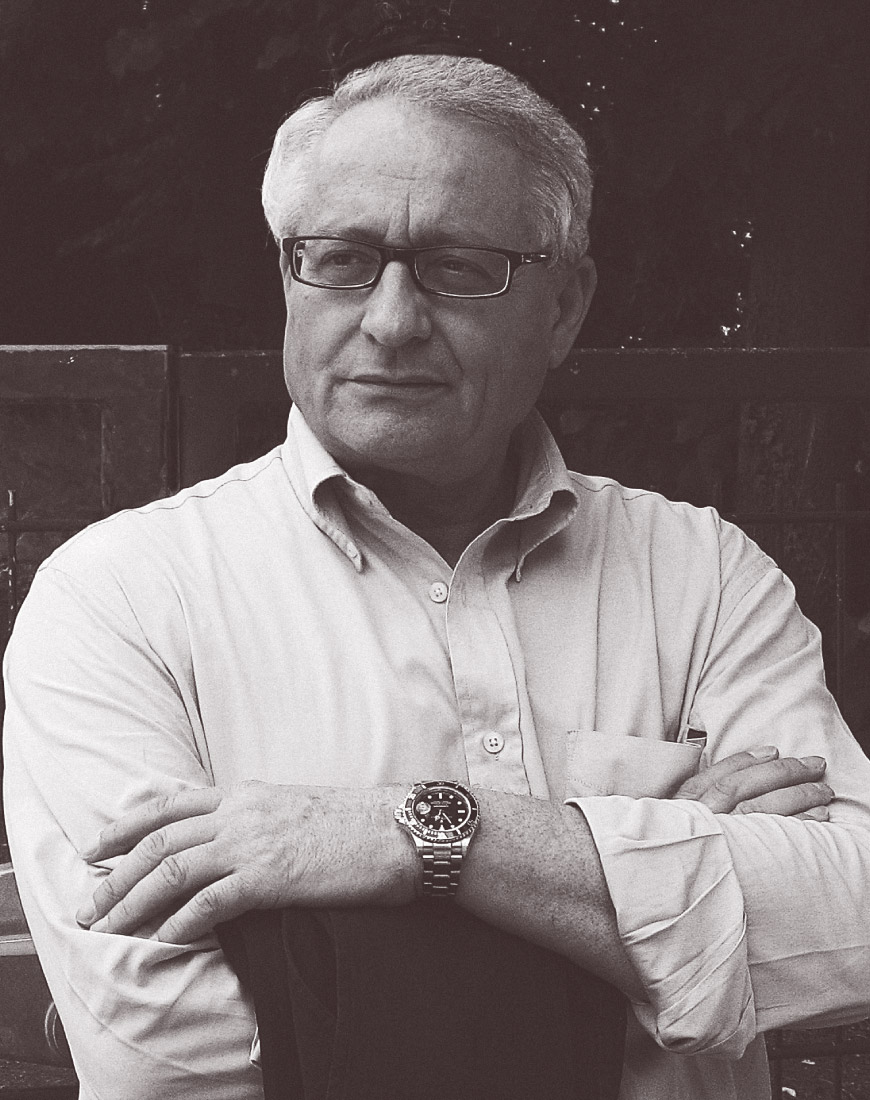 Pietro Arosio
Pietro Arosio was born in 1946 in Lissone, near Milan. He learnt his profession at the research centre of a company specialising in the production of metal furniture for communal spaces. This experience led to the emergence of a design philosophy that developed over time through his work as an industrial designer. He began his career in 1972, and was already winning accolades in 1983, receiving the Casaviva d'Oro award. The fundamentals of his work include essentiality, research into new materials and technologies, and attention to detail and to the engineering implications of his designs. Pietro Arosio is fully aware of the emotional impact his products can have, and has worked in partnership with various internationally-acclaimed artists, including Nespolo, Del Pezzo, Hsiao Chin, Tilson, Rotella and Keizo. A number of his pieces have been exhibited at the Victoria and Albert Museum in London, and at the Munich modern art museum Die Sammlung.