Mantiqueira
Next
Prev
These inspired creations lie midway between art and design, defying definition. The new Mantiqueira by Domingos Tótora for Tacchini Edizioni are an original artistic encapsulation of the way nature and craftsmanship elicit a shift towards ethics. The Brazilian designer creates these objects using recycled cardboard, instilling them with all the authentic intensity of this material, which is transformed and shaped into a new life. Tótora's vases are the fruit of a certified, sustainable, labour-intensive process, in which recycled cardboard is reduced to a pulp, then worked and moulded by hand, giving shape to sculptural pieces that are then dried in the sun, and subsequently finished. The artistic procedure is quite evocative, taking cardboard, a derivative of wood, and transforming its appearance into something extremely similar to the very wood from which it comes. Beauty and respect seem to be the key words for this new and concrete sustainable vision of decor accessories.
Designer: Domingos Tótora
Year: 2019
Brown
Cod. OMANM49
Ø 09 H 49 cm
Cod. OMANM50
W 24 D 18 H 50 cm
Cod. OMANM65
Ø 09 H 65 cm
Black
Cod. OMANN40
W 16 D 23 H 40 cm
Cod. OMANN44
W 27 D 22 H 44 cm
Cod. OMANN51
W 16 D 16 H 51 cm
Red
Cod. OMANR25
W 23 D 23 H 25 cm
Cod. OMANR36
W 39 D 39 H 36 cm
Cod. OMANR45
W 45 D 43 H 45 cm
Beige
Cod. OMANB35
W 50 D 50 H 35 cm
Cod. OMANB43
W 24 D 16 H 43 cm
Cod. OMANB56
W 19 D 25 H 56 cm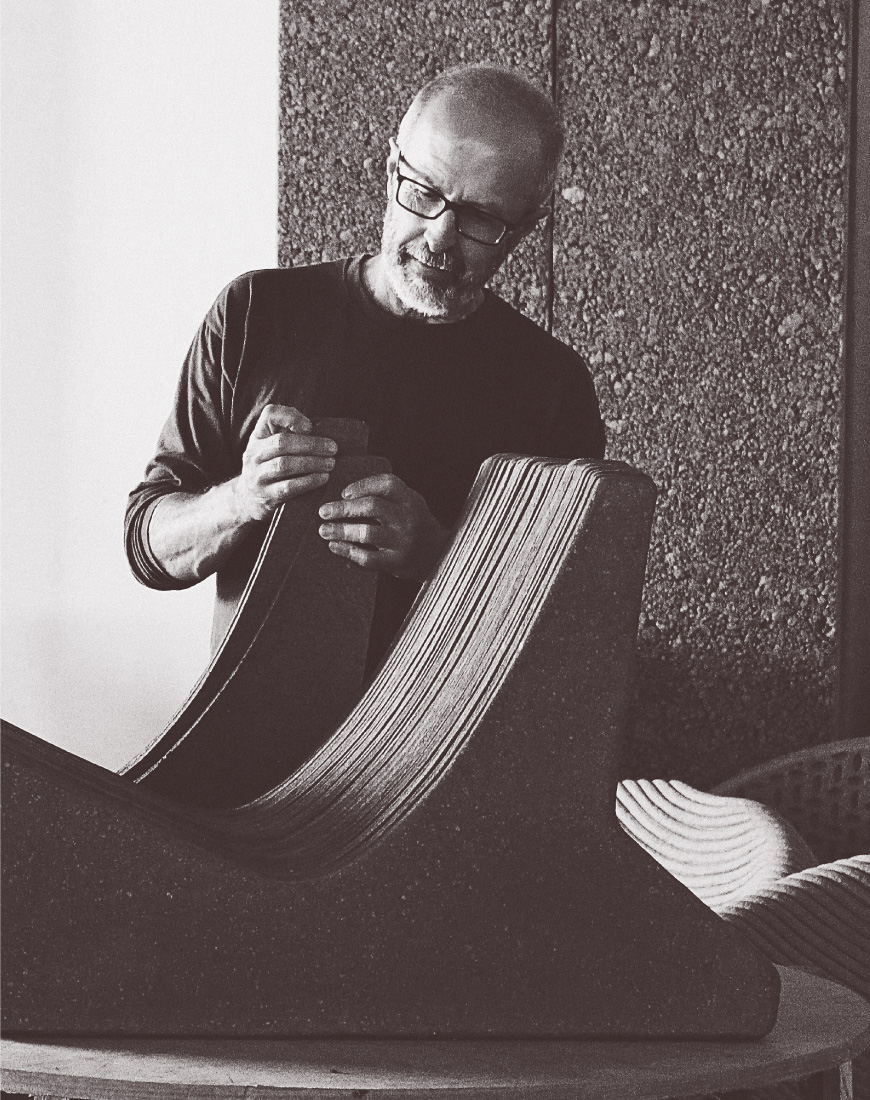 Domingos Tótora
Domingos Tótora was born and raised in the small town of Maria da Fé, in the Serra da Mantiqueira, in the south of Minas Gerais, Brazil. He is self-taught. In 2005, he chose recycled cardboard as a raw material for his work transiting art and design. Of extreme beauty, its pieces include vases, fruit bowls and furniture that refer to the colors and textures of nature, such as bark, stones and earth. In the studio founded in 2005, Tótora develops prototypes simultaneously for the production of the pieces. The beauty of work is not just the end result. It manifests itself in its philosophy of creation and respect for the environment. For him, sustainability should be a practice and not just a speech. Its production process is 100% manual and the cardboard is fully reused. In recent years, the originality and elegance of his creations have been recognized in a several exhibitions.