Face to Face
Next
Prev
"Setz dich zu mir. Ich will dir ins Gesicht sehen, während wir uns unterhalten. Verstehen, was du denkst". Gordon Guillaumier interpretiert das Sofa neu und verwandelt es in einen Raum der Beziehungen von Angesicht zu Angesicht. Zwei gegenüberliegende Rückenlehnen und weiche Daunenkissen sind eine Einladung, sich einander gegenüber zu setzen, sich anzublicken, um überall den persönlichen Blickkontakt wiederzufinden. Face to Face, bezogen mit Stoff oder Leder, wurde entwickelt, um in Raummitte in Gemeinschaftsräumen oder in der Gemütlichkeit eines Wohnzimmers aufgestellt zu werden. Die Kreuzstich-Nähte in Kontrastfarben machen es zur perfekten Metapher jeder Zweierbeziehung.
Designer: Gordon Guillaumier
Year: 2017
Cod. OFAC196
W 196 D 97 H 73,5 cm
H seat 38 cm
Internal frame: seat in poplar plywood 18 mm thick with elastic belts.
Padding: seat in differentiated - density polyurethane foam. Backrest: cold foam with metal insert.
Base: metal feet powder coated painted or chromed.
Upholstery: non removable cover.
Base:
Cross-stitched seam:
T77
T78
T79
T80
T81
T82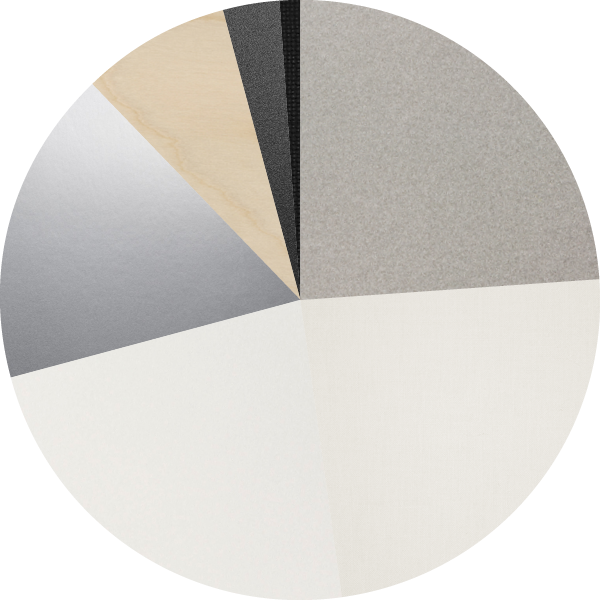 Cold foam 24%
Upholstery 24%
Polyurethane foam 23%
Iron components 17%
Poplar plywood 8%
Elastic straps 3%
Sewing 1%
Gordon Guillaumier
Gordon Guillaumier wird 1966 geboren und studiert in Malta, in der Schweiz, in England und Italien. Nach dem Erhalt des Abschlussdiploms am IED Mailand (1988-91), macht er eine Fachausbildung in Design am Domus Academy in Mailand (1992). 1993 beginnt seine Zusammenarbeit mit Baleri Associati und im gleichen Jahr arbeitet er auch für den Architekten Rodolfo Dordoni. 2002 eröffnet er sein eigenes Designbüro in Mailand, wo er sich anfänglich mit Produktdesign, aber auch mit Bauplanungen beschäftigt. 2006 hält er Vorlesungen an der Fakultät für Industriedesign am Politecnico Mailand.