Victoria
Next
Prev
Lebanese design duo David/Nicolas are behind this modular system comprising armchairs, corner sofas, chaises longues and ottomans offering luxurious comfort. A tubular supporting frame – available in polished chrome, matt black chrome and black lacquer – serves as the product's base, giving it a floating appearance and creating a sort of crown at the back. A series of small tables with mirrored tops completes the line; they can be combined with the other elements to create endless compositions. Thanks to its modular nature, Victoria can be arranged and reconfigured as desired, depending on the space where it is placed. This feature makes it particularly suitable for use in the contract sector.

Awards: 2021 Archiproducts Design Awards
Designer: David/Nicolas
Year: 2021
Cod. OVIC1430
W 84 D 143 H 74 cm
H seat 42,5 cm
Cod. OVIC1431R
W 84 D 143 H 74 cm
H seat 42,5 cm
Cod. OVIC1431L
W 84 D 143 H 74 cm
H seat 42,5 cm
Cod. OVIC1432
W 88 D 143 H 74 cm
H seat 42,5 cm
Cod. OVIC900
W 80 D 90 H 74 cm
H seat 42,5 cm
Cod. OVIC901R
W 80 D 90 H 74 cm
H seat 42,5 cm
Cod. OVIC901L
W 80 D 90 H 74 cm
H seat 42,5 cm
Cod. OVIC902
W 80 D 90 H 74 cm
H seat 42,5 cm
Cod. OVICA900
W 60/81,4 D 90 H 74 cm
H seat 42,5 cm
Cod. OVICA901R
W 64/85,4 D 90 H 74 cm
H seat 42,5 cm
Cod. OVICA901L
W 64/85,4 D 90 H 74 cm
H seat 42,5 cm
Cod. OVICA902
W 68/89,4 D 90 H 74 cm
H seat 42,5 cm
Cod. OVICP900
W 80 D 90 H 42,5 cm
H seat 42,5 cm
Cod. OVICP901
W 84 D 90 H 42,5 cm
H seat 42,5 cm
Cod. OVICP902
W 88 D 90 H 42,5 cm
H seat 42,5 cm
Cod. 1VIC80
W 78 D 78 H 25 cm
Cod. 1VIC50
W 50 D 78 H 25 cm
Internal structure: 18 mm thick poplar plywood, with 45 × 45 mm solid fir crosspieces with elastic straps.
Padding: multi-density polyurethane foam, last layer in memory foam.
Structure: iron tube Ø 40 mm, chromed or painted in different colors.
Cover: not removable.
Structure:
Top: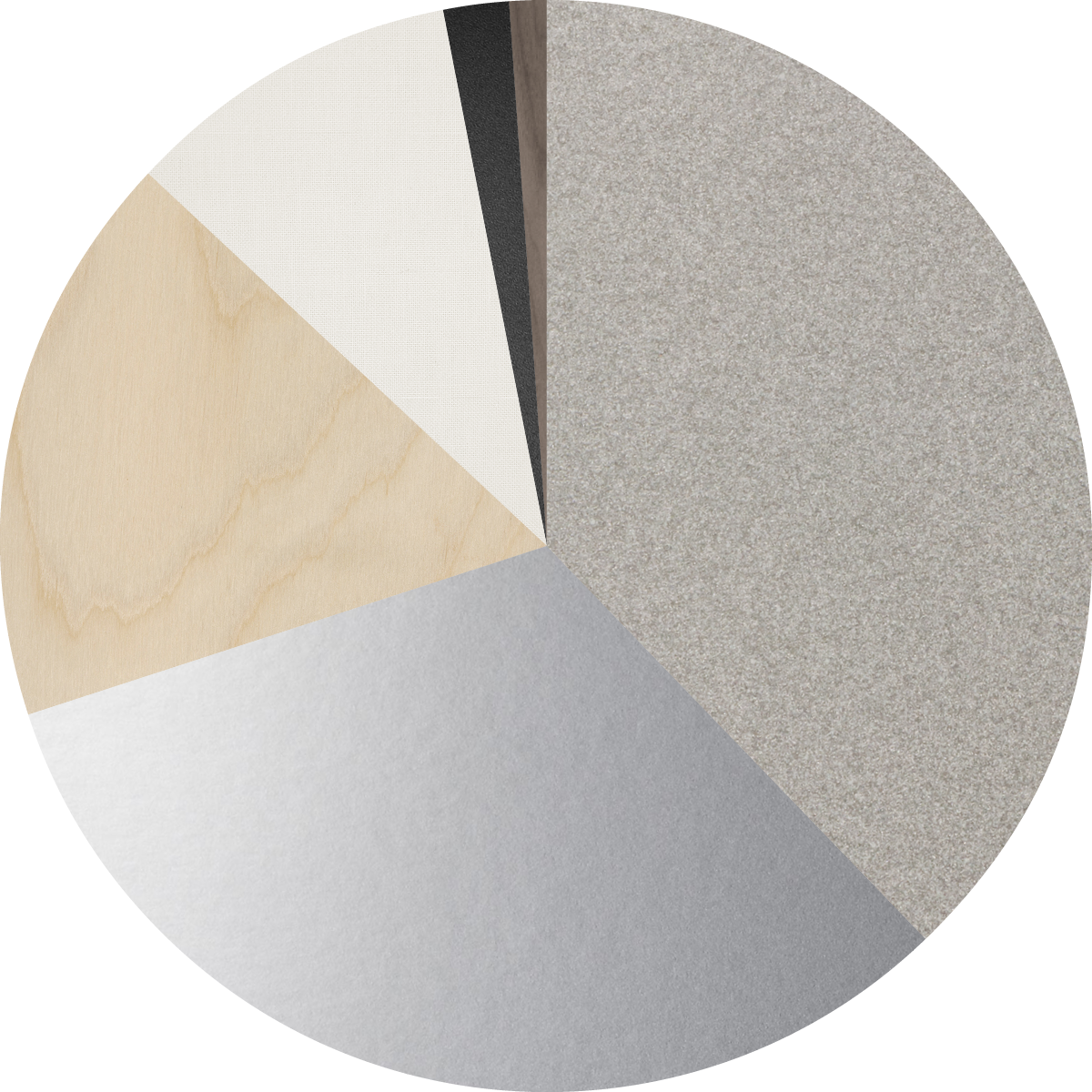 Polyurethane foam 38%
Iron 32%
Upholstery 10%
Poplar plywood 17%
Elastic straps 2%
Solid fir 1%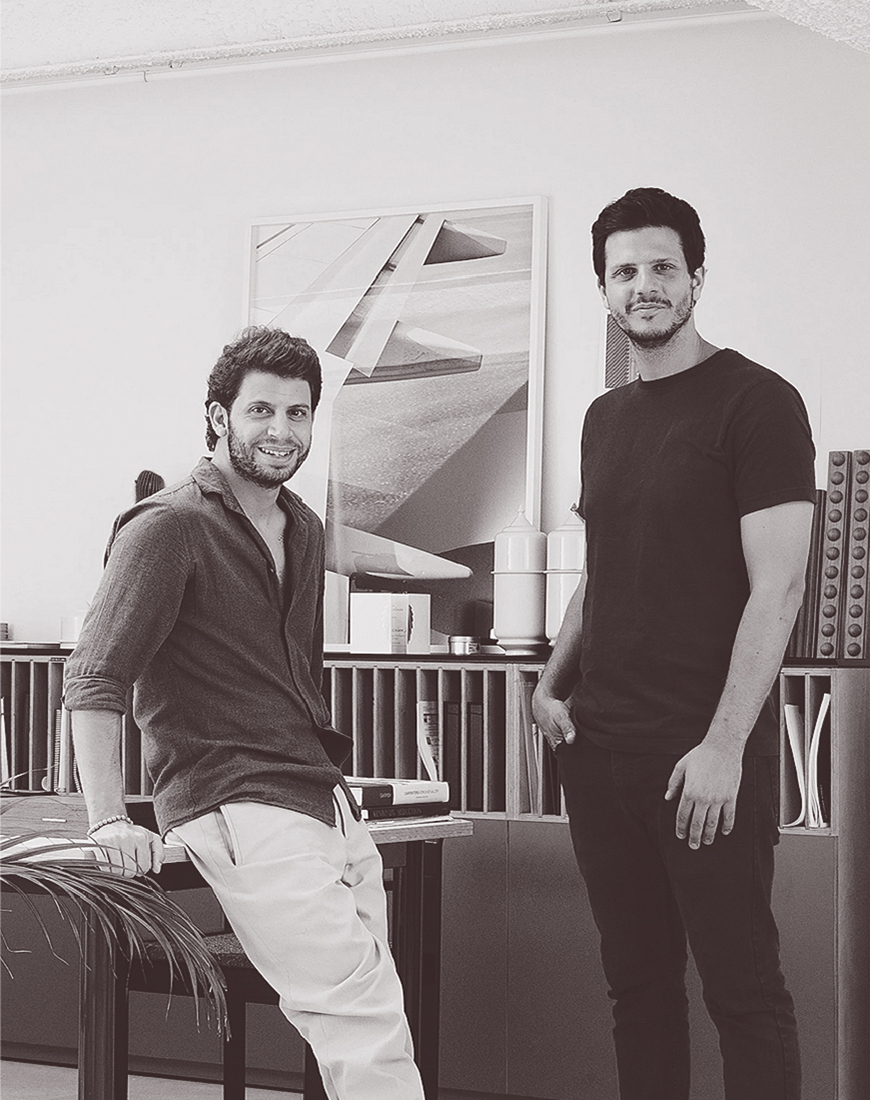 David/Nicolas
David Raffoul and Nicolas Moussallem have established a global presence since they set up their studio, David/Nicolas, in Beirut in 2011. Through their interdisciplinary approach to their retro-futurist design aesthetic, they have staged several exhibitions and collaborated with established international brands like Vista Alegre, CC-Tapis, Moooi, Vogue Italia. David/Nicolas met at the Lebanese Academy of Fine Arts, where they both studied for a Bachelor's degree in Interior Design, going on to undertake Masters degrees at the Scuola Politecnica Di Design in Milan. After graduating, both undertook internships with international design studios, Nicolas going on to freelance for a year in Beirut while David worked as designer at Fabrica, in Treviso, Italy. Since 2016, they are represented by Carpenters Workshop Gallery. Their solo exhibition "Supernova" was shown in both Paris and New York and is continuously expanding into a wide range of carefully crafted pieces.